How to choose the right label material for your product?
Choosing the right adhesive is necessary for choosing the right label and avoiding problems in the future. Of course, on one hand, you do not need to worry too much about the technical parameters of the label adhesive, but on the other hand, it is important to have some basic knowledge about adhesives so that you can avoid problems in the future. It is possible to encounter any of the following problems:
The label comes off the surface right after application, i.e., the label does not stick to your product's surface.

The label comes off the surface of your product some time later. It is possible for a week or so to go by and for you to notice that the labels have started to come off.
Bubbling
The label can come off the surface when kept in a damp or cold environment.
Etc.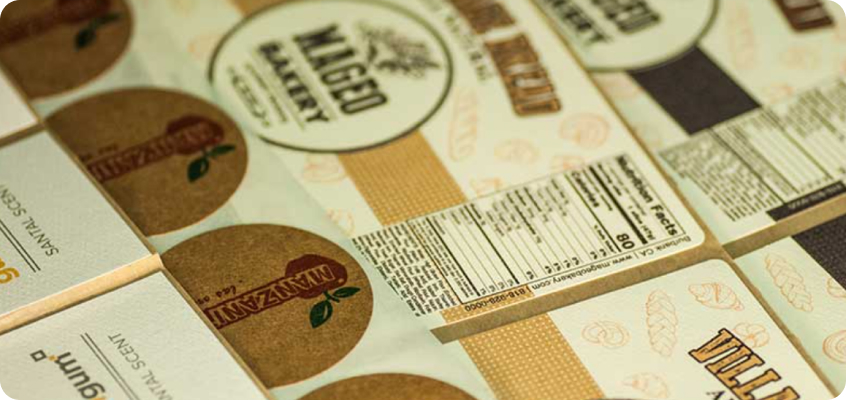 Rubber-based and acrylic-based Adhesives
Adhesives typically are available in two different types: rubber-based and acrylic-based. For pressure-sensitive adhesives, rubber may be chosen as the base material because it adheres well to a wide range of materials and surface types, it works well in low-temperature conditions, and it is more cost-effective compared to acrylic adhesives. Acrylic labels, on the other hand, can adhere to products kept in a much larger temperature range and they provide resistance to UV light. Like rubber, acrylic provides great long-term adhesion, but it's not well-suited for plastic surfaces and is better for use with other types of materials.
According to the liner application method, adhesives can be divided into three groups: Hot-Melt, Solvent, Emulsion.
We will not go into too much detail with the technical details because the physical characteristics are more important for you, such as what adhesive works better on what surface or in different temperature settings.
There are many types of adhesives based on those characteristics. Some of these characteristics include:
What temperature settings the label application will take place in
What temperature settings the product will be kept in
Whether the product will be stored in damp conditions
Whether the product will be stored indoors or outdoors
Whether the product will be exposed to UV rays
Etc.
Permanent, Aggressive and Removable Adhesives
Permanent adhesives are used in all other cases. These are the most common and least expensive adhesives.
Our specialists will be more than happy to answer additional questions or specific requests.